If you're new here, you may want to subscribe to my RSS feed. Thanks for visiting!
This is just a snippet of my recent interview with Jon Carder, CEO and co-founder of MOGL, a relatively new restaurant guide slash game where diners can eat out and get cash back.
I liked this because here he talks about the equivalent of a "pre-shift" meeting — in this case a "company huddle" — and the value of recognizing staff who are living the company values and principles — nice stuff…
Jaime: You have on your site your core values, and so I looked at one of them, and I said I've got to ask about this. It says "above and beyond expectations". Tell me how you talk about that with your team and give me an example.
Jon: We have a saying that goes along with that one. It's called good is the enemy of great. And there's so many times in a business where good enough is really tempting, right. We'll get to a certain part. You know maybe it'll be in a customer service thing like oh I just visited that restaurant owner last month. I don't maybe need to go back again. He's not expecting me to come back in and bring him something or say hi or check in and see how his kids are doing, but we always strive to be great not good. So you have to put in that extra effort.
You have to go above and beyond to really separate yourself from everything else that's out there, and so we always encourage our employees to do that, and we actually every morning we have a company huddle. We bring all the employees together, and we say all right who lived our values the day before, and we'll identify everyone who did from their peers. Their peers will identify and say hey I saw Billy go above and beyond because he did something amazing yesterday, and then we do a big cheesy cheer for all of them. It's really kind of funny. It goes M-O-G-L you did something really well, and then we rap off everyone's name, and then we go goooo MOGL. And it's just sort of funny.
Jaime: You'll have to Youtube that for your website…
Jon: Yeah. But it works you know, and I think the same thing applies to anyone's business. Good is the enemy of great. You've got to push your people to understand that and really look for ways to go above and beyond, so we just call it ABE. A-B-E for above and beyond expectations.
Jaime: Great Jon. And really every business and restaurant can take advantage of that kind of thinking.
So, what are you doing with pre-shift staff meetings — how are you making them work for your restaurant? Share your stories….
P.S. You can read the entire interview on the RR site…
So, I'm out the other night with the family for dinner.
Dessert time comes and the wife asks for the menu.
Five or six tasty choices all priced at just $3.
Quick check for typo–not the case.
For background, we're at an upscale place — not fine dining by any stretch, but above casual family.
The sort of place you'd expect $6.95 or so to be standard fare for dessert choices.
Ok, maybe mini-desserts–not the case either.
So we put in two orders to match the taste buds at the table.
Normally, we will get just one, or oftentimes no dessert at all.
The verdict–two very delicious desserts and a table of happy customers.
Points to ponder? Are your desserts priced with value in mind? Are you just copying everyone else's dessert prices? These folks took a different approach to dessert and it left us with a nice finishing experience.
Bottom line - are there opportunities with dessert that you are not taking advantage of?
What are you doing to maximize dessert — what's worked and not worked for your restaurant?
If you happen to have children under the age of six, and if you find yourself in Monroeville (PA)… you are not welcome at Michael Vuick's place (McDain's Restaurant). Actually, you and the wife are totally welcome, but you have to leave the kids (under the age of six) in the car. Needless to say, the car is not a good idea, and we suggest that you try another establishment.
Kids tend to make noise, and noise can be a bad thing while folks are dining, so it is what it is. It's certainly not a brilliant public relations decision to ban kids from your restaurant, but it's his place, and there are plenty of kid-friendly restaurants to choose from, so this situation is not exactly the most critical news story of the day.
It does remind me of a discussion I had with a chef in New York City. I was talking about the ongoing child obesity issues along with my disdain for the fast food industry and their role in the subject of unhealthy dining. I talked about the growth and influence of McDonald's, and I was somewhat stunned by his spin on children and dining.
The chef suggested that "most upscale restaurants dread the moment that children enter their restaurants, and their fear of children has been in place for years and years. In the meantime, McDonald's continues in the opposite direction. They market to the entire family, and even go so far as building playgrounds on their properties.
"Generations grow-up with McDonald's and we continue to discourage families with kids. The children eventually graduate to the chains at the expense of our so-called fine dining restaurants. After X amount of years, fine dining finds itself in some trouble".
It's only one chef talking about kids and restaurants, and I'm not so sure that fine dining is related to the issue in question. I am suggesting that a single restaurant is banning children under six, and I don't see this as the beginning of a movement to drive even more people to fast foods. It's really a non-story that is generating tons of unnecessary publicity.
A guy named Brian Freedman is a food critic for a weekly paper in Philadelphia. He most recently wrote an unfavorable review on a relatively new restaurant located in the Rittenhouse Square area. With only one visit in mind, he chose to bash this spot during Restaurant Week. The guy has the right to do what he did, but in the real world of real professionals, a professional critic would understand that Restaurant Week is hardly the time to bash a restaurant. The paper itself should wake-up and apologize. To criticize a business during the insanity of this promotion is in my mind, unfair and inexcusable.
I am not a fan of the Restaurant Week craze and in fact I have characterized it as "the modern version of the two-for-one coupon", and it doesn't take a genius to give away money. If the folks return and pay the full price for the dinner, then maybe I don't know what I'm talking about.
I am not a fan of restaurant critics, but I hate to generalize. There are some very good ones who actually know what they are talking about. Brian Freedman is hardly in this category. If you want to hurt a man's business, do the right thing. Don't show-up during Restaurant Week.
And while on the subject (The Philadelphia Weekly), how can the paper justify this particular (edited) response from a reader … "This place is a disaster. The Chef/Owner's food is weak, his actions are shady and his overall business practices are shameful."
This is a blatant shot at a respected chef with zero proof of anything. This appeared on the web site of the paper, and they allowed it to be printed. It is precisely why the reader response thing is dangerous. The paper is to be blamed for allowing this on their site. This owner is owed an apology and the entire matter is a total disgrace.
Article link: http://www.philadelphiaweekly.com/food/reviews/Cichetteria-19.html
I don't think it is necessary to explain the Groupon thing. The truth is that you can't get away from it now that approximately one million copies of their concept are now available.
The Philadelphia Inquirer is doing it and they tell me even Clipper Magazine has joined the fray. It's the web's answer to the proverbial and utterly embarrassing Entertainment Book.
The real question is how long will this last? I'm looking at today's offers that include 74% off indoor or outdoor paintball. No disrespect intended, but I go out of my way to avoid the paintball crowd. Having said that, another one is offering 80% off lessons at the School of Rock - that might appeal to me.
So many restaurants have become involved and most of them have no idea what they are doing. If you sell 1000 dinners at 50 to 70% off, you can find yourself in big trouble.
The idea behind getting involved is to attract new customers and trust me when I tell you that people who gravitate to the 50% off deals are not interested in returning unless they have another coupon.
This is essentially the crowd that enjoys their cocktails in their car and their drink of choice in the restaurant is water. The only thing worse for a restaurant is getting involved with Restaurant.com where it's possible to enjoy discounts up to 90% (see our previous post on that).
The entire thing is depressing, but America loves a bargain and the economy is what it is. I see it as a disaster to the restaurant business and a convenient way to hasten your demise as an owner.
Who has done the "web group discount thing" and has an opinion one way or the other? Who is thinking about doing it and why or why not?
Ok, so this hit my desk in the early AM on 9/9/09…
"Restaurant.com Stretches the Dollar with 90% off Gift Certificates"
A limited time promotion they are running using the date of 9/9/09 as an excuse.
I don't care what day it is on the calendar this is a terrible promotion.
Well, let me clarify that - this is a terrible promotion for any restaurant.com client.
Who can deny it's a good deal for the customer - A $25 certificate, which they usually discount to $10 anyway, is then $1 - yes, one dollar. And customers are indeed going crazy for it - a quick search of twitter shows countless people sharing the news.
That's all well and good - but from the restaurant side, I find the promotion disgusting.
I know if I was a restaurant on their site, I would call up and immediately cancel with them.
Of course, they lock restaurants in for 12 months so that's not really an option - and I guess they hope that restaurants forget about these kinds of promotions when it comes time to renew.
So let me elaborate. I'm a restaurant and I've got a pretty nice place. And some lame-brain marketing person desperate for sales at restaurant.com makes my $25 certificate worth a buck!
That makes me and my restaurant look like an ass.
I'll say it again - like an absolute ass.
Here's the deal…
Restaurant ABC signs up for "free" to restaurant.com
Restaurant ABC receives a decent looking presentation of their restaurant on the website
Restaurant ABC decided on a couple of certificate offers to make available - i.e. $10 for a $25 certificate and decides on the restrictions for it - i.e. with the purchase of $50 or more..
- Restaurant ABC agrees to redeem the certificates when they come in the restaurant
Ok, maybe that's a good idea - I strongly say no it's not - but let's continue to go with it.
Here's the rub…
Restaurant.com doesn't share any of the dollars from the sale of certificates with the restaurants.
For example, in the case above, restaurant.com would receive the $10.
Or as the case would be in this 90% sale, the $1
Since they don't have to worry about sharing this revenue and it's all just digital certificates they hold a wacky sale like this.
Good for them, because consumers flock to buy these cheap certificates - well "coupons" really - it's a very big stretch to call these things gift certificates.
And they get some sales volume and new customers and media attention, etc.
But is it good for the restaurants - their so called "partners"?
Well maybe if the restaurant just wants someone to walk through the door at any price.
But certainly not if the restaurant has any inkling of branding and image.
It's hard to look cool, hip and happening when they are shilling your $25 certificate for a measly dollar.
It's just the wrong impression. It's just the wrong tactic. It's just wrong.
There are countless ways to do better restaurant marketing.
The marketing machine of restaurant.com has somehow fooled thousands of restaurants.
Maybe because it seems easy and free, restaurants say what the heck and give it a try.
Well, let me just say that "free" can sometimes be very, very expensive.
And that is the case here.
Maybe you think different - that's fine - post your comment. And forward a link to the restaurant.com people, they are welcome to respond as well.
All the best,
- Jaime
P.S. Don't take this as a harsh criticism if your restaurant has chosen to use restaurant.com. Do take it as a constructive critique that you can do better with your marketing and be more creative and inventive and build true value with your marketing programs. That's what we help with - we have tons of marketing resources for folks at RestaurantReport.com and RunningRestaurants.com.
It was almost ten years ago that we (Restaurant Report) were ranting and raving about the subject of childhood obesity. We knew then that we were systematically raising an entire generation hooked on fast foods. We knew then that both the parents and the schools were failing miserably as they sat back and watched this happen. We knew then what was going to happen, and after all these years, the problem has gotten progressively worse.
Our article stated the following… "Our kids have become psychologically and even physiologically addicted to a diet that is unto itself, blatantly unhealthy". We called upon the chefs of America to get involved in some type of effort to educate the public regarding the dangers inherent in a steady diet of fast foods, and to develop some type of program to teach the importance of good food and healthy dining. All these years later, things have gotten progressively worse to the point where our medical community is now busy treating young children for Type 2 diabetes and even heart disease.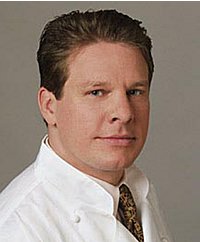 The reaction to our plea would not be characterized as overwhelming, and even today, the parents and the schools continue to do virtually nothing when it comes to something so critical as the health of our children. Having said that, we did hear from Chef Christopher Daly. At the time, he was Chef de Cuisine at Petrossian in New York, and he was ready to fight the battle. The good chef included the following in his response… "It is a terrible thing to think of the scope of damage being done in the name of convenience and fast foods. Our youth is being commercialized; their health is in danger, and their future is being placed in jeopardy".
The real story here is that Chef Daly did more than simply write a letter. He single-handidly started an organization that he calls "HIP FOR KIDS" (Hospitality Industry Professionals for Kids), and guess what - it's still going strong today and this chef hasn't backed down one inch. Most of the country could care less - Chef Daly is making something happen! We might be losing the war, but the chef is winning the battle. His recipes and his programs for fresh, healthy food have been adopted in schools all over the country. It's a great story and I don't believe Chris Daly thinks we're "losing this war".
The man is actually saving lives, and based on his performance to date, he will continue to do so. His site is hip4kids.org and this chef deserves our interest and our help. One man unto himself is not going to beat this devil. Having said that, it's comforting to know that someone actually cares.
I received the below email postcard about a week ago….
It's good. It's a nice offer - exclusive access to a prescreening of a hot
movie.
I didn't speak with Fleming's, but my thinking is the wine company had quite a hand in underwriting and organizing the promotion.
That's great — a win, win setup.
So, maybe you can't setup a sneak peek for a Hollywood blockbuster — that's
fine.
The point is 1) creativity 2) relevance and 3) matching your brand & customer profile.
And we can all do that.
Money tight at your restaurant? It probably is right now. Look to your purveyors to support an event that you both promote and where you both win.
Bottom line is that your customers have many dining choices and you just got to "grab 'em and shake 'em" every once in a while with something fun or interesting or exciting or….you get the point.
Have fun with it and good luck!
All the best,
- Jaime
"Here's to Alcohol: the cause of, and the solution to, all of life's problems" –Homer Smith
The economy is what it is and if restaurants don't already have enough problems, look for state governments to raise alcohol taxes. The studies continue to come to the same conclusion - Alcohol taxes and prices affect drinking. When prices go down, people drink more, and when prices go up, people drink less. That unto itself is not exactly shocking.
What is disturbing is that the so-called experts concerned with the subject of addiction who are actually pushing for higher taxes on alcohol with the assumption that higher prices will be the silent cure for alcoholism. Here's just one example… Frank Chaloupka, PhD, Professor of Economics at the University of Illinois at Chicago, describes the research as a "true tour de force," and adds, "these findings provide a strong rationale for using increases in alcoholic beverage taxes to promote public health by reducing drinking."
In other words, let's find an excuse for raising those taxes, and let's punish the hospitality industry in doing so. We will make alcoholic beverages so damn expensive that alcoholic dependency will cease to exist. It's all for the greater good, and keep in mind that we taxed the hell out of cigarettes and less people are smoking.
Here's my take on it… Maybe 10% of the drinking public are problem drinkers. This means 90% drink responsibly. So why punish the overwhelming majority (not to mention an entire beverage industry that is a vital part of the economic survival of our restaurants). More to the point, I don't care what the studies say; people of the addicted variety are not going to stop drinking because a bottle of Smirnoff just went up by ten percent. You can charge $145.00 for the bottle and these folks will find a way to keep drinking.
The governments are going to raise taxes, but please don't use the excuse that in doing so, you are actually doing something for the greater good of society. What you are doing is hurting the beverage industry; the hotel industry; and most certainly, the restaurant industry. (just to name a few).
Here's an interesting question that recently came in from a RunningRestaurants.com member…
"I have 2 days coming up in February where my business is greatly decreased (from average 80 covers down to 20) and I haven't found a way to make it better.
We are a 60 seat white tablecloth, neighborhood restaurant, avg. check $50 per person, seasonal menu and the real kicker NO television. Super Bowl and the Academy Awards are my nemesis'. Those who do come to the restaurant are thrilled that we are open and that we DON'T have a TV.
I've looked but can't find any solutions or ideas for building business on these days that works for my restaurant. Can you put it out there and see what comes back? I'm sure there are others in my same situation. Cheers - Tracey"
So, the question is how can you effectively market an "anti-event"?
Let's help Tracey out with some ideas.
Please take a few moments and add your thoughts…
Thanks
- Jaime